The Minor Arcana – The Cups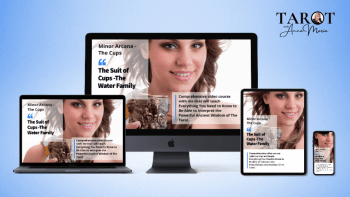 What I will learn?
This unique course teaches a step-by-step process that begins with the basics and progresses you all the way to delivering very advanced and detailed Tarot readings.

I will equip you with the proven tools and professional methodology to be able to deliver life-changing readings for absolutely anyone.

Maybe you're already thinking of starting your own Tarot Reading practice, or maybe you just really want to use what you'll learn to help yourself and your friends and family.

This course is designed to teach both spiritual novices and experts alike and you will gain powerful and little-known insights into the Tarot.

Many of these professional secrets are the product of My life's work and are simply not available anywhere else.

The Tarot Tuition with Anne-Marie Masterclass teaches you everything from connecting with clients to effortlessly reading Tarot cards and providing valuable and inspiring Tarot interpretations.
Course Curriculum
The Minor Arcana – The Cups
Ace of Cups

Two of Cups

Three of Cups

Four of Cups

Five of Cups

Six of Cups

Seven of Cups

Eight of Cups

Nine of Cups

Ten of Cups
Student Ratings & Reviews
No Review Yet